The holidays are coming and excitement is in the air: warm drinks, cozy nights, festive cheer, snow around the corner.
But let's get real. It's also cold outside.  So what is there to do in Colorado Springs inside.
For those of you who love the chilly season near Colorado Springs, but would rather spend some time indoors when the temperature drops, keep reading. Here's 10 indoor family fun activities (and a couple date night ideas) near Colorado Springs:
1. Wild West Ghost Town Museum: History & Artifacts
If you're looking for the quintessential Colorado experience (and you're not interested in hiking in the Rockies in sub-zero weather), then your whole family will love the Wild West Ghost Town Museum. Built in 1954, this museum set out to preserve and commemorate the Wild West experience that makes Colorado so unique. Based on the Gold Rush towns of the late 1800s, this museum perfectly captures the spirit of the Wild West mining town.
Learn about the Wild West towns that defined an era, check out the indoor collection of artifacts, check out the gift shop for amazing gifts, and watch a short film that will delight all the history buffs in your family.
2. Escaped in Time: Escape Room Puzzles, Unique Experience
If you're looking for a unique experience with friends or family, Escaped in Time will definitely deliver. Suitable for children eight years and older, you can make it into a family event. Or, you and your partner and a few other couple can make the trip to Escaped in Time together for an interesting experience.
Never heard of an escape room? Here's the gist: you and your team enter a room and receive a series of clues and puzzles to figure out how to escape. Escaped in Time has a couple of fun themed rooms, like The Lost Soul, where you'll be escaping from a pirate…in the year 1705. If you're looking for a way to stretch your mind, get creative, and feel exhilarated on a cool evening, you'll love Escaped in Time.
3. The Summit: Bowling, Arcades, Virtual Reality, Laser Tag, and More
If you're looking for local indoor activities that will keep everyone entertained for hours, The Summit: Elevated Entertainment is your spot. Do your kids love laser tag? They've got that. Do you and your work buddies keep saying you'll go out bowling? The Summit has that covered, as well. Their huge arcade will keep everyone entertained on a snowy, rainy, or cold day. They even feature the Holocube VR, which is a virtual reality technology that allows kids to step into the experience of a pirate, a ninja, a robot, and more.
The Crossroads Tavern and Grille offers fun food for the whole family, while its big screen TVs appeal to the sports fans in your group.
4. Springs Rhythm: Dancing Lessons for All
If you're looking for something fun and unique to do on a date night —and don't mind working up a sweat—you and your partner might enjoy taking a dance class at Springs Rhythm. Take private lessons, learn social dancing, or get competitive with DanceSport.
At Springs Rhythm, they teach all kinds of dance, depending on where your interests lie: Country Western, Salsa, Ballroom, Latin, and Swing. If you're looking to elevate your date night, meet new people, or satisfy your competitive side, this is the place for you.
5. Colorado Springs Fine Arts Center: Art, Museums, Concerts, Comedy, and Moe
Bursting with fun indoor activities for every age, The Colorado Springs Fine Arts Center is the perfect intersection of culture, art, and entertainment. The Museum has an array of unique exhibitions to satisfy your love of art, including a permanent collection of art created in the Americas.
And the Theatre Productions include concerts, dance productions, comedy shows, film festivals, and more. From kid-friendly shows like Go Dog Go to adult-centric performances like Shakespeare in Love, there's something for everyone at the Fine Arts Center.
6. Sky Zone: Trampolines, Sports, and Glow Night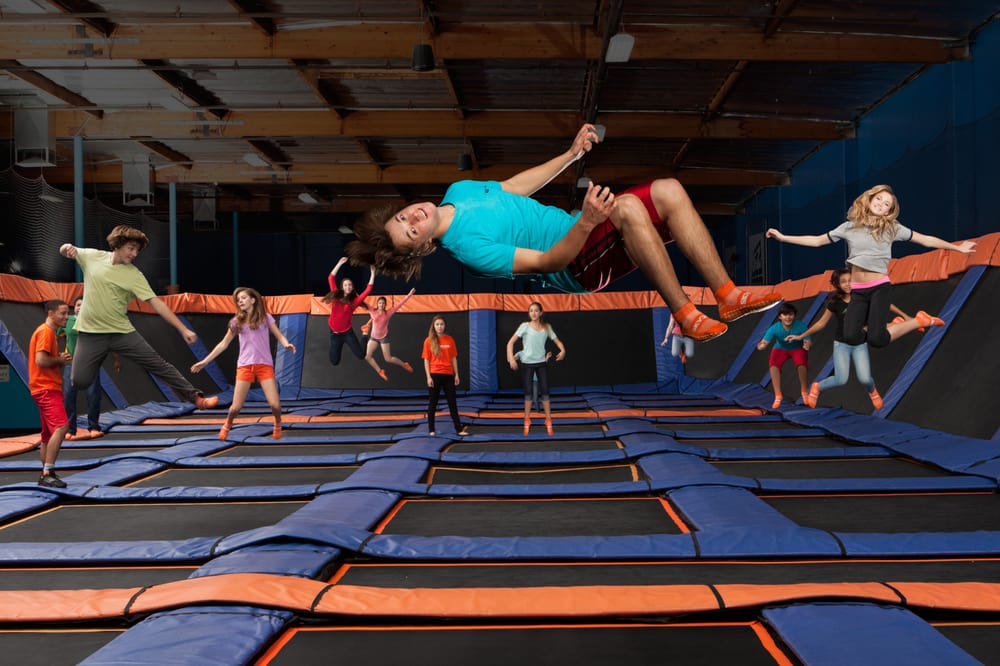 You and your whole family can get your bounce on at Sky Zone, which offers an incredible way to warm up during those chilly days of late fall and winter. They offer a Freestyle Jump, where you can let loose on a huge trampoline court. They also have Ultimate Dodgeball and Ultimate Volleyball, which integrates trampolines with competitive sports.
If you have little ones, Sky Zone even offers a Toddler Time for kids who are walking-age, all the way up to age five. And for the opposite end of the spectrum, Glow night features blacklight, lasers, and music for a mesmerizing and unique experience.
7. Cosmo's Magic Theatre: Jazz, Mystery, and Magic
For a classy-yet-fun indoor activity, check out Cosmo's Magic Theatre. The intimate theatre offers a close-up glimpse of the magic shows, while the elegant lobby area entertains with antique furnishings and "magical decor." For parents and families with children fourteen years and older, the Evening Show features complimentary refreshments in the lobby. For families who'd prefer a daytime show (or have younger children), the Daytime Matinee shows are your best bet. Either way, prepare to be fully immersed in magic, sleight of hand, and jazz.
8. CityROCK Climbing Center: Yoga, Indoor Caves, and Climbing
There's nothing like experiencing Colorado's famous mountainous landscape…but indoors. The CityROCK Climbing Center has climbing for adults and kids alike, and is a great place to host an indoor party for your active kids. If you're really looking for an experience, the artificial cave system sprawling under the building teaches real-life caving skills in a safe, controlled environment.
CityROCK also features yoga classes, including Vinyasa flows, Acro Yoga, and Power yoga, for adult visitors.
9. Space Foundation Discovery Center: Science & Space
Have kids who are interested in science and technology? The Space Foundation Discovery Center appeals to everyone who's entranced by the idea of space travel and astronomy. The El Pomar Space Gallery showcases space artifacts and exhibits that will get your family fired up about the science of space travel. And the Northrop Grumman Science Center features the groundbreaking Science on a Sphere technology which projects 3D images of the Earth, planets, Sun, and Moon.
10. The Little Gym: Dance, Karate, and Gymnastics
Gymnastics, karate, dance, sports – The Little Gym has an incredible array of activities for your little one. They understand that parents need to have fun, too, so they offer Parents Survival Night. You can leave your kids to play, explore and have fun in a save environment while you enjoy a well-earned night off on Friday or Saturday evenings.
If you'd rather spend some quality learning time with your children, the Parent Child classes offer "three dimensional learning" to engage children up to three years old.
There's no shortage of fun indoor activities if you live around El Paso County, Colorado. From Ghost Town museums to indoor caving all the way to outer space, there's something for every family in this area. Contact us for more information about local events or activities, or check out our blog for more fun, local activities.