Northern Colorado Springs is easy driving distance to some of the best dining in town, especially dining with an international flair. Choose from dozens of highly rated restaurants with diverse cuisines. You can dine in, take out, or enjoy outdoor patios depending on the Colorado Springs weather. Here are some options to try today:
1. Narai Thai
Operating for over a decade in Colorado Springs, Narai Thai offers consistently delicious, authentic dishes. The owner, Jasmine, grew up in Thailand to a family with a rich culinary history, and her passion is to bring that tradition to her guests here in Colorado Springs. Customers rave about the generous portions and friendly atmosphere. It might be a cliche choice for Thai restaurants, but the pad Thai here is to die for. Located at 805 Village Center Drive, make plans today to enjoy Narai Thai's cuisine.
2. Chaang Thai
Another highly rated Thai restaurant, Chaang Thai boasts quality, authentic cuisine in a relatively understated, minimalist location. Find Chaang Thai at 7525 N. Academy Boulevard, Chaang is noted for its delicious soups and curries, as well as its friendly atmosphere. Enjoy the inviting dining room, their outdoor seating when the weather is pleasant, or grab some take out to enjoy at home.
3. Little Nepal
Experience Indian and Nepalese cuisine at Little Nepal. This award-winning restaurant boasts amazing curries, tandooris, and other class Indian specialties. Customer consistently rave about the generous portions provided by Little Nepal. Pro tip: the lunch buffet is a neighborhood favorite! Stop by for an all-you-can-eat smorgasbord of Indian delights. Little Nepal is located at 4820 Flintridge Dr, Colorado Springs, CO.
4. Indus Modern Kitchen
Another highly-rated Indian restaurant in the area is Indus Modern Kitchen. This spot is a haven for those who have unique dietary needs or allergies. They boast an open-kitchen atmosphere (à la Chipotle) that allows you to observe the cooking process. They are a nut-free kitchen, with gluten-free, organic, and vegan options available. The care and attention to food and ingredients translates into a flavorful, delicious experience for patrons. Check it out at 12229 Voyager Parkway.
5. Arabian Nights Cafe
Heading farther West, Arabian Nights Cafe offers delicious and affordable Mediterranean cuisine. This unassuming storefront offers up consistently delicious Middle Eastern food to its patrons. Some of the favorites includes shawarmas and their flavorful falafel. Customers often rave about the chicken and lamb kabobs, and of course, you have to try the Turkish coffee. Find this hidden gem at 8029 Academy Blvd N.
6. Heart of Jerusalem Cafe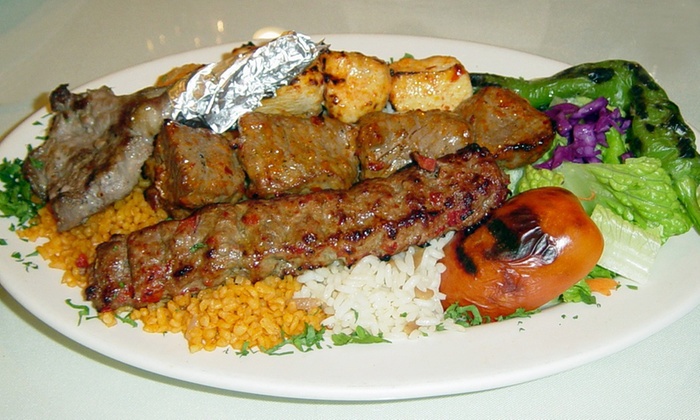 Head to Heart of Jerusalem Cafe for your culinary journey to the essence of Middle Eastern home cooking. No matter your dietary needs, you are sure to find something for your unique needs. Just say the word, and you can choose from our vegan, vegetarian, or gluten-free options. Enjoy award-winning hummus and falafels, seasoned with imported spices. Find them at 4587 Austin Bluffs Pkwy, Colorado Springs, CO 80915.
7. Mollica's Italian Market
This family-owned-and-operated establishment has been in business since 1987. Mollica's Deli offers traditional Italian specialties to go or catered for you special event. Grab a delicious calzone, specialty pizza, sandwich or salad. Mollica's offers gluten-free crust options as well. In addition to grabbing your lunch or dinner, you can shop Mollica's for your kitchen staples like gourmet Italian seasoning or homemade pesto sauce.
The Briargate area of Colorado Springs is centrally located to a huge amount of diverse restaurants, providing the best location for your new home. You can experience the best international cuisine without leaving the comfort of your neighborhood.