Colorado Springs is going through a massive business boom. In fact, according to the 2017 State of Downtown Report, there was over $675 million invested in public and private businesses in downtown Colorado Springs last year alone. With this new business boom, we're seeing tons of new restaurants, clothing stores, gyms, and more opening around town. With so many new businesses opening, it can be difficult to pinpoint the best-of-the-best. Well, we're going to give it a shot.
Let's make Colorado Spring business our business. Here are the 7 best new (or soon to open) businesses in Colorado Springs.
Streetcar520
Standing in a bizarre place that exists between a nightlife craft-drink establishment and a bustling restaurant filled with locally sourced foods, Streetcar520 has quickly become a Colorado Springs favorite.
Are you looking for an iced cucumber-dill gin, cucumber juice, and juniper simple concoction — called a Spa Day — to drink at the end of your workday? How about an order of spicy-tangy-savory Kimchi fries? At Streetcar520, you can get both in a building that is delivering unique recipes in a wonderfully fun environment.
That's probably why you already have to make a reservation to get a table — and it only opened 2 months ago (September 2018.)
520 S Tejon St, Colorado Springs, CO 80903
Basil & Barley Pizzeria Napoletana
There's something about shoving a piece of thin, charred, ever-so-slightly soggy crust smothered in mozzarella, basil, and tomato sauce into your mouth that seems to spell the word happiness.
So, when Roberto Calcagno decided to open up a Neapolitan pizza restaurant in Colorado Springs in August 2018 — Basil & Barley Pizzeria Napoletana — he stole a "pizza" Colorado Springs heart. Roberto grew up in the beautiful coastal town of Liguria, Italy, where we can only assume he spent his days devouring traditional pizza pies and indulging in olive-oil saturated classic Italian food. These years of pizza-passion fueled him to open up his very own traditional pizzeria in Colorado Springs.
You may only need yeast, flour, water, tomatoes, mozzarella, and basil to make one of these traditional pizzas, but, if word-around-town is accurate, Roberto is pumping gallons of love and passion into these tasty crackly crusty gooey circles of taste.
9278 Forest Bluffs View, Colorado Springs, CO 80920
Vinum Populi
Do you quite literally want to wine-and-dine? Vinum Populi is Colorado Springs newest wine bar with a heavy emphasis on food and community. This is the perfect spot for those that want to splash right into some reds and whites. While Colorado Springs may not be the wine capital of the world — we're sure that France and Italy will be at each other's throats for that honor — it does have a growing wine scene.
Vinum Populi has just recently opened, so its tasting schedule is available on their Facebook until they get a website booted up.
6165 Barnes Rd #170, Colorado Springs, CO 80922
YMCA
Welcome to the Y! M! C! A! Colorado Springs, because a brand-spanking-new YMCA facility is set to open in late 2018. We aren't sure of the exact date as of yet, but you can follow the progress on the PPYMCA website.
If you're not familiar with the Y, its basically a huge community center with an emphasis on physical activity. So, grab some basketball shorts and that new smartwatch — it's workout time!
U.S. Olympic Museum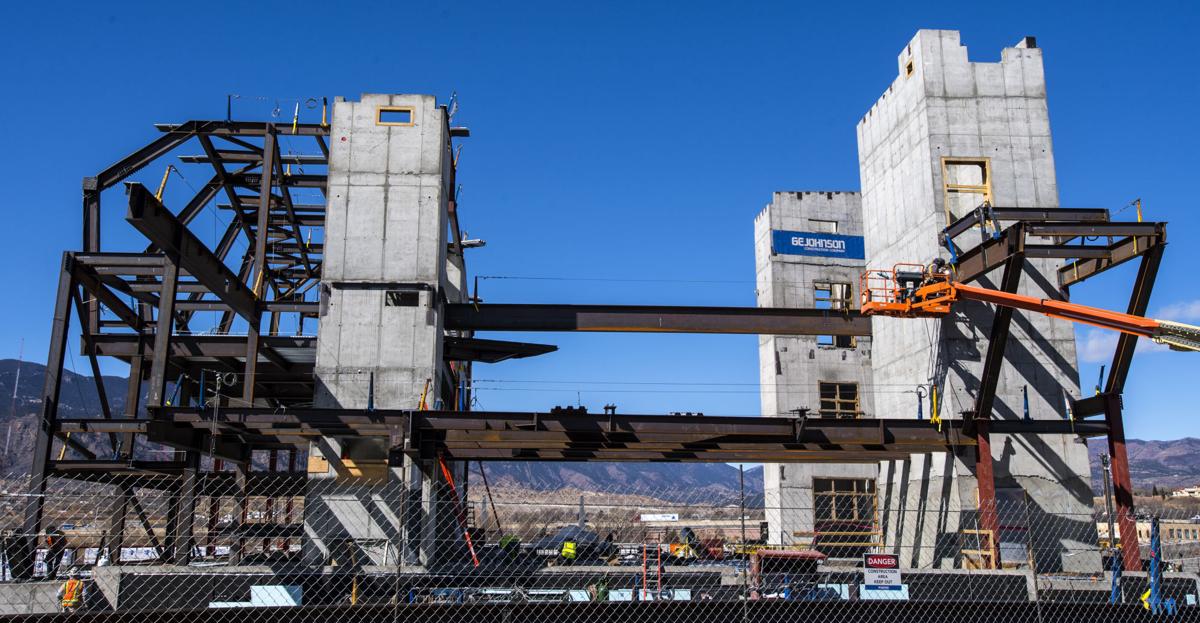 We know! The U.S. Olympic Museum's opening is a few years away (currently slated for 2020,) but it's too big of a deal not to mention. This fully interactive museum will highlight the U.S. Olympic and Paralympic team at every level. All of the Olympic's biggest-and-best American athletes will be featured in this incredible museum.
Not only is the U.S. Olympic Museum expected to bring a whopping $6 billion citywide impact by bringing in businesses and residential space, it's also one of the most attractive looking establishments ever built. The Museum itself is claiming that 5,300 jobs will be created by the opening of the museum within 20 years!
Menchie's Frozen Yogurt
Menchie's Frozen Yogurt is another chain business, right? Sure, but there's a reason that we're including Menchie's on our list out of all of the chain places that are opening in Colorado Springs over the next year or two.  Menchie's is synonymous with family fun and frozen yogurt (sorry, froyo.) Not only does Menchie's offer frozen gold in the form of delicate, sweet, icy frozen yogurt, but it also offers a fantastic family-friendly environment.
Do you know someone that has an upcoming birthday? How about grabbing them a frozen yogurt cake (you're reading that right) with a picture on it? Menchie's has over 500 locations for a reason, they offer the glittery, sprinkle-filled fun that you just can't get anywhere else.
Rumor (has been confirmed) has it that Menchie's is opening up a location on the southeast corner of Dublin and Powers early next year. Finally! We're going to go grab our froyo-eating pants; we'll see you there.
Snooze Eatery
We're not sure why this place is called Snooze, because that's the last thing that you'll be doing in the morning with this breakfast nook nearby. The whole Snooze image focuses on energy and alertness, making it the perfect breakfast joint for the slow-to-rise. This place is grandma meets decadence. Sure, you can grab 3 cage-free eggs with some toast and bacon, but Snooze gives you the option to throw down an avocado eggs benny as well.
On those work-free days, stop by to try one of Snooze's breakfast-inspired cocktails. That's right! They serve morning cocktails. It's 5 a.m. somewhere.
There are already a few other locations in Colorado (each with a unique menu,) so having one in Colorado Springs will ease some of that city-vs-city jealousy.
This Colorado-famed breakfast eatery will be opening its doors in Colorado Springs in April 2019 at 7587 N. Academy Blvd.
Colorado Springs is booming. With a wide selection of restaurants, businesses, more opening this year (far more than we could include on this list,) the city is vibrant and more alive than ever. With all of this new infrastructure and funding, jobs are plentiful and property values are rising. If you would like to learn about more local activities and business openings, contact us!