A day out with the family isn't really a day with the family if you can't bring your dog. Unfortunately, there are many places that Spot just can't go. A dog at the opera wouldn't go over well! But a dog at the park? Well, that's right up Spot's alley. Thankfully, there are plenty of dog-friendly parks in or around the Briargate area that your family, including its canine members, can make a fun-filled day out of. In this post, we'll go over the Colorado Springs dog parks that are available, give you an honest review of each, and provide you with the tools to make an informed decision as to which parks the dog in your life will enjoy most.
The first two parks are in Briargate and the rest are listed by distance away. All of the parks are in the Colorado Springs area though so you won't be traveling too far to find a great place to run and play with your pet.
Woof Ranch Park
Woof Ranch is a great little dog park featuring 3 fenced in areas. There is an area for small dogs, an area for big dogs, and a third area where your dog can run an agility course. The agility course features nine pieces of equipment to keep your dog on his or her toes.
Woof Ranch isn't as expansive as some of the other parks, but it is a great little park to visit and the better of the two Briargate dog parks.
Woof Ranch is in Wolf Ranch, on the west side of Tutt Blvd, across from Ranch Creek elementary school.
Rampart Dog Park
Rampart Dog Park is a large fenced off area that consists mostly of sand. You'll need to keep your dog on a leash until you are inside the enclosed area, then he or she can run free. The park stays mostly clean and visitors are good about picking up after their four-legged friends. There are usually bags available so you can return the favor, but bring your own to be sure. The park also contains water fountains for the dogs, but again, you may want to bring your own to ensure that your dog gets water when they need it.
Being mostly a large fenced off sandbox, this dog park isn't the most scenic on the list and isn't a well kept as Woof Ranch. But if it is close to your home, this is still a nice place to bring the dog for a quick trip.
Rampart Dog Park is located at 8270 Lexington Dr.
Fox Run Dog Park
This one is well loved by the locals. Located outside of Briargate in the beautiful Fox Run Regional Park, this dog park features 5 fenced off areas where your dog can run free. The mostly forested area has trails and patches of wide open spaces for your furry friend to get all the play time they desire. There are two separate fenced off area, one for small dogs and another for large dogs.
For the rest of your family, the park features BBQs and playgrounds so the humans can be just as entertained as the dogs. Which is great, because if your dog is anything like ours, he loves watching the kids have fun and playing along even more than he loves playing on his own.
The park can be found at 2110 Stella Dr.
Garden of the Gods
Garden of the Gods is an absolutely stunning National Park featuring beautiful rock formations and plenty of trails. The park is described by retired biology professor Richard Beidleman as "the most striking contrast between plains and mountains in North America." If you want to make great memories with your doggo, as all dog lovers do, Garden of the Gods will surely give you and your dog an unforgettable experience.
Most of the park requires your dog to be on a leash, but there is a fenced off pet area where your dog can run free. Those areas are some of the most beautiful off-leash areas in Colorado Springs, so this is one you definitely won't want to miss.
You'll find the entrance to the Garden of the Gods at 1805 N 30th St.
Get more details on their dog policy below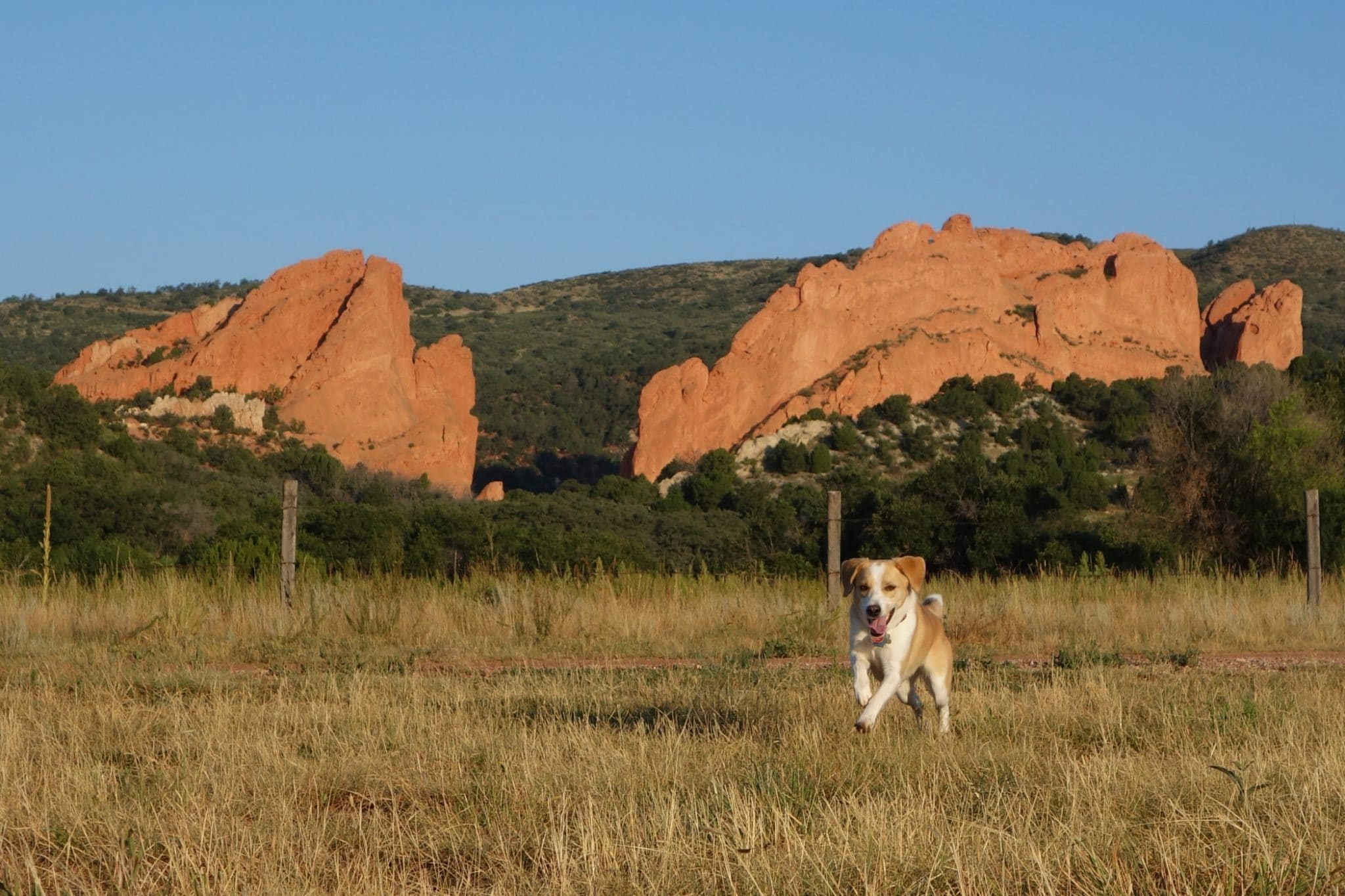 Click here to go to their site
Red Rock Canyon Open Space
Red Rock Canyon offers a similar experience to Garden of the Gods. In fact, the Garden of the Gods can be seen from the Red Rock Canyon Park. If this park is more conveniently located, or if you are just looking for a change of pace from Garden of the Gods, it makes for a great alternative to that attraction. Most of the area requires dogs to be on a leash, but there are two off-leash areas located in the park. There is also a free ride bike park for your dog's human companions.
The Red Rock Canyon Visitor Center is at 515 S. Cascade Ave.
Click here for more info
Palmer Park Ute Crest Dog Run Area
The dog run area is distinct from the Palmer Dog Park. The fenced off dog park near the entrance is not well reviewed. Local dog lovers know that the secret is to continue on past the park and up the hill to the dog run area. This area allows your dog to run off leash and features a wide range of trails to explore and rock formations to enjoy. The dog run area is a substantially better experience than the dog park.
Please note that since this isn't a dog park proper, there are no water or bags. You'll want to bring your own so that you can properly care for your four-legged pal when you are out on the trail.
The park is located at 3650 Maizeland Rd.
Bear Creek Dog Park
This is another highly rated Colorado Springs dog park. Bear Creek is a massive 25-acre off-leash park with a smaller 2-acre area for smaller dogs. The park includes complimentary bags, an agility course for your dog to play on, and water fountains for them to drink from. There is also a dog washing area, which you'll likely need if your dog has a little too much fun playing in the creek.  This is probably the most famous dog park in the Springs.
This is consistently one of the highest rated and most loved dog parks in the area, and one that you will definitely want to check out.
Bear Creek is at 1704 S 21st St.
Get more info on Bear Creek Dog Park
Under the Sun Doggie Day Care and Private Dog Park
The Doggie Day Care and Private Dog Park is located at 790 Dublin Blvd, Colorado Springs, CO 80918, USA and this park could serve as your "Dog's Home Away from Home". Aside from your dog interacting with other dogs, they will also be playing on some fine facilities, going for a walk and can also do some exercises like running alongside with golf carts and they also have trainings available to address any behavioral  issues upon owner's request. The park is rated 5 out 5 stars on google. It simply shows how dog owners love this park for their dogs since it doesn't have any negative feedback stated on the reviews.

East Ridge Dog Park
A park in Cimarron Hills, colorado is about 2.5 fenced acres and has bags dispensers, trash cans, benches, rest rooms, loop trail, dog drinking water stations to keep your dogs hydrated, some shade and parking. It also has a pavilion, playground and sports field. It has been rated with 4.3 out of 5 stars and most of the complaints were about the dog owners who does not clean their own dog wastes. The place is also a bit dusty.
Conclusion
We hope this list of great trails to take your dog in Colorado Springs has been helpful to you. If you have any updated info on any of the listed dog parks, or a favorite dog park or dog-friendly trail that isn't on the list, be sure to reach out to us!